I received the following email from a member who found a factory replacement for the 6.5 fuel filter assembly.
At 07:29 PM 1/10/2020, you wrote:
>Hi, Jim. Happy New Year. Please note, for your interest, the included link below.
>The part is a bit different than the link I sent you last month. A few
>dollars pricier, but the body is Aluminum rather than being all-plastic.
>The cartridge, as I understand it is the same. Cartridges are a dilemma,
>as they are not transparent on the Micron rating, AC Delco cartridges
>included. Even the 10 Micron rating for my original 6.2 filter is a bit
>unclear. In the end, I guess I have to take confidence in the fact that
>this is a factory replacement (as was the plastic one, the photo of which I
>sent you earlier) and that the Micron rating should be in the right ball
>park (between 20 and 5 Microns, as you earlier advised).
>
>Interesting were the customer reviews, one of which stated that it was a
>factory part, prone to leaking after long usage.
>
>Anyway, I'd be interested in your thoughts, if you find the matter of
>interest.
>
>As always, Thank you.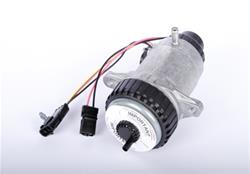 https://www.summitracing.com/int/par...rview/make/gmc
Hi Phil,
Thanks for the link. I like what you found, and I would not hesitate using it in a 6.2L installation or to replace a faulty 6.5 fuel filter assy.
These filter assys can be prone to leakage, but if you do a good job changing fuel filters, mindful of the various seals, it'll provide decades of service. Also, the bottom portion of this filter assy includes a water-in-fuel sensor and fuel heater components. These are all sealed using O-rings. The fasteners may need to be tightened over time.
Thanks again,
Jim