Ford Cummins
Diesel Conversion
By Jim Bigley
H
ow many times have you heard an F-Series owner lament how he wished Ford would install the 5.9L Cummins in his favorite pickup truck? We met a Ford F-350 owner at an auto show in 2001 here in Montana who has built what he couldn't get from the factory - a 2001 Ford F-350 SuperDuty, equipped with a 2004 5.9L common-rail Dodge Cummins.
About mid afternoon on the day of the car show, a fellow by the name of Roger Daley came up to me and our Duramax project truck to see what we had done. We talked at length about the conversion process and about what challenges were overcome. His interest and depth of questions indicated to me that he had more than a passing interest in conversion projects involving current diesel engine technology. Once his curiosity had been satisfied, I mentioned that his level of interest indicated something more. I was correct, and he began telling me what he had done.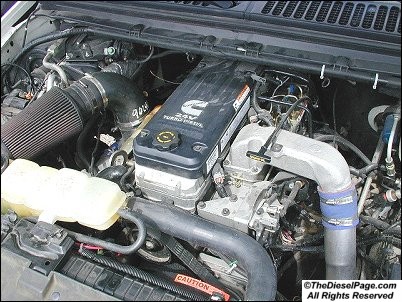 The 2001 F-350 you see here began life with a gas V-8. Roger pulled the original engine and transmission, then installed a brand-new 2004 Dodge Cummins diesel. To get the power to the rear wheels, He machined a special transmission bellhousing adapter to mate with the Ford 4R100 4-speed automatic, which had been upgraded with a Suncoast torque converter.
Just like GM's current automatics, Ford's autos are electronically controlled. This meant teaching Ford to speak Dodge and Dodge to speak Ford. This cross-platform information exchange was accomplished by adapting the Dodge ECM communications to accept input from the Ford powertrain computer and vise-versa. The Ford electronic throttle pedal and computer system were retained to allow proper transmission and instrumentation control, while the Dodge ECM manages the engine.
A Powerstroke radiator and intercooler were installed, and custom hoses and fittings were produced to make the connections. Current engine position didn't allow for the Dodge engine-driven fan to be used, but a thermostatically controlled electric fan has provided the necessary cooling thus far.
Roger reported that there is still room to move the engine rearward enough to provide clearance for the engine-driven fan, which might be incorporated in a future conversion project.
Roger reports that fit of the engine and proper clearance over the front axle and other chassis components was not a problem. There remains a certain amount of latitude for future adjustments, and I certainly noticed the amount of room available on either side of the engine, compared to a Powerstroke installation.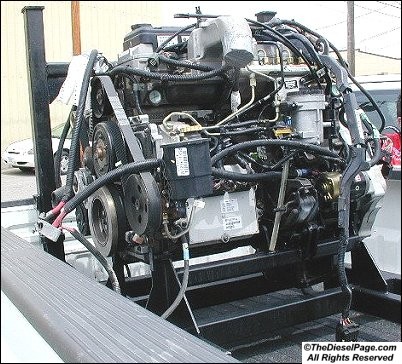 What Roger had in the back of his truck was nearly as interesting. Mounted to an engine stand was another brand-new 2004 Dodge Cummins drop-in engine package. Being in the right place at the right time has its advantages. Roger was able to acquire a total of eighteen complete engine packages. The engines were removed from eighteen damaged Dodge pickups that had the bad luck of being involved in a train derailment.
Roger was able to acquire the engines, complete with all attached accessories, including the Bosch high-pressure common-rail fuel injection systems, ECM's and related wiring harnesses. The pictured engine was sold to a willing buyer the day of the show.
Want to learn more? You can visit Roger's web site at
www.fordcummins.com
. He is offering complete conversions - including labor - for your Ford F-250/350 for just $16,000, or for the DIY types, you can buy a complete engine package directly from him. Oh, the possibilities...
TDP