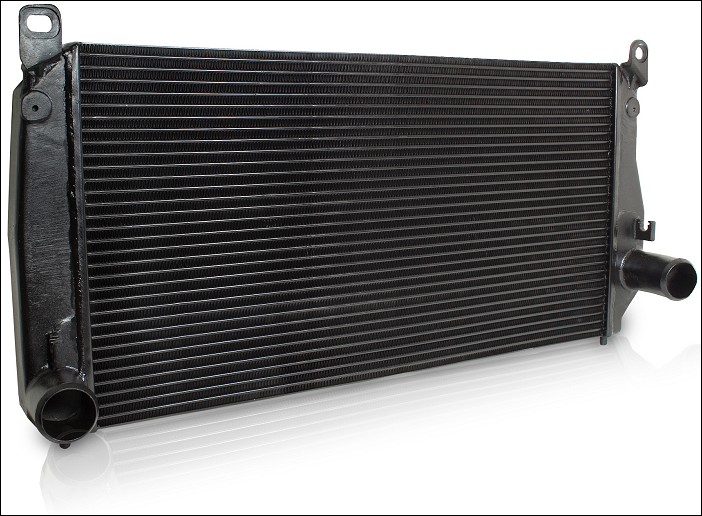 BD's new Chevy LB7/LLY Duramax Intercooler
C
ompressed air is heated air-and when you combine an aggressive fuel curve with elevated boost levels, high inlet temperature can result. That's why BD developed the
Cool-It
intercooler. With up to 57% more cooling surface area and an up to 33% thicker core, the Cool-It increases cooling effectiveness to approximately 90%, compared to only 70% for the stock intercooler. That can mean a temperature reduction of up to 200 degrees Fahrenheit over the stock intercooler! At the same time, the up to 36% larger inlet and discharge tubes can handle up to 100 psi of boost and over 1500 cfm, while holding pressure drop to less than 1 psi.
And with BD's new Chevy LB7/LLY Duramax unit having over 780 sq in of frontal cooling area and almost 2000 cu in. of cooling volume, that's an increase of 12% more area and 79% more volume over stock - 4% more area and 37% more volume over some competitors.
A direct, bolt-in replacement for the stock unit, the Cool-It is the best-looking, best performing intercooler on the market. Hoses and spring loaded T-bar clamps included in some kits. New manufacturing design makes all end tanks with exclusive cast-in one-piece internal support columns that increase tank stiffness and strength.
BD Intercooler w/ high efficiency w/low pressure drop extruded tube= 2.56 x 38 x 20.54
Frontal surface Area = 780.52 sq in
Cooling Volume = 1998.1 cu in.
Efficiency: >90%
Pressure Drop < 1 psi
Banks Tube and fin = 1.94 x 20 x 37.5
Frontal Area = 750 sq in.
Cooling Volume = 1455 cu in
Stock = 37.6 x 18.6 x 1.6
Frontal Area = 699.4 sq in
Cooling Volume = 1119 cu in
BD Frontal Area 12% More than stock
BD Cooling Volume 79% More than stock
BD Frontal Area 4% More than Banks
BD Cooling Volume 37% More than stock
More than 90% efficient; 10% more efficient than the next leading Duramax aftermarket intercooler
BD Diesel Performance
Toll Free. 1.800.887.5030
Unit A10-33733 King Rd,
Abbotsford, BC, Canada
V2S 7M9