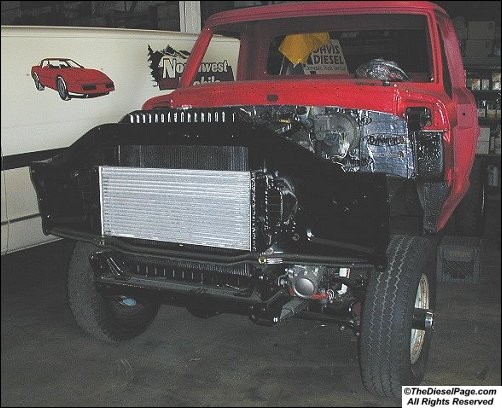 1967 Ford Highboy
Cummins Diesel Conversion
By Jim Bigley
W
e visited Davis Diesel in Spokane, Washington in the summer of 2004 to collect some performance data on their chassis dyno. While there, I found this Ford-Cummins project in the shop area. Jeff Davis (Davis Diesel owner) had been working on this truck for quite some time, but has since been completed the conversion and delivered the truck to the customer. The truck began life as a 1967 Ford F250 4x4, referred to as a "High-Boy" by those who recognize the tall stance of those model-year trucks. This is an interesting project, and one that received some first-rate fabrication.
This is a 1997 Dodge 12-valve Cummins, running with a Dr. Performance P7100 mechanical fuel injection pump and injectors. The fuel-rate and turbo boost pressures are set to produce approximately 300 rear wheel horsepower.
There is adequate room to install the rather long inline six on custom motor mounts while maintaining the engine driven fan.
Jeff equipped the 1967 Ford frame with a complete set of 1993 Dodge 2500 axles, matching new leaf springs and all other suspension components.
The interior of the cab had been stripped of all electrical systems and accessories. It was then thoroughly cleaned, and a spray-on bed liner material was sprayed onto the floor areas to deaden the sound and to help protect the interior from moisture and rust. Jeff also installed a newer style 1997 Dodge pickup steering column to provide cruise control and other steering wheel switches.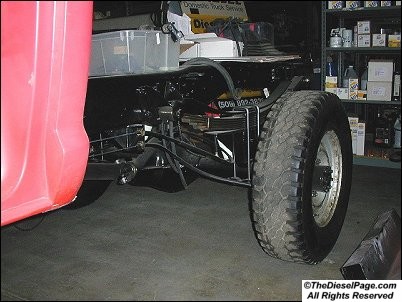 Jeff installed a Getrag 5-speed manual trans followed by an NP-205 transfer case. A heavy-duty Dana rear axle, new drivelines and a new leaf spring suspension bring up the rear.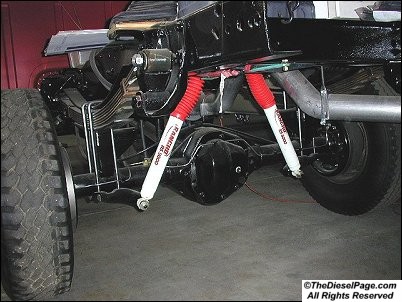 A large 4" free-flowing exhaust system moves the smoke, and new HD Rancho shocks tame the ride.
One of Jeff's personal rigs is a 6.5TD Chevy pickup, and he knows the GM diesels well. Aside from having one of the few chassis dyno's in the area, Davis Diesel also offers a complete line of performance products and service for all three brands of diesel pickups. If you'd like to learn more about the 1967 Ford Cummins project featured here, or if you need help with any diesel service or performance question, give Jeff a call.
Copyright 2004-2007
TDP
For more information, contact:
Davis Diesel
7503 E. Sprague Avenue
Spokane, Washington 99212
Call: 1-509-892-3836
www.DavisDiesel.com